You've probably seen first aid kits before and most likely used one at some time in your life.
But did you know that first aid kits are more interesting than you might think?
Here are 15 fun facts about first aid kits!
1) Robert Wood Johnson, the founder of Johnson & Johnson, first came up with the idea of a first aid kit in 1888 during a conversation with a chief railroad surgeon about the difficulties he faced with giving quick medical attention to injured railroad workers.
2) The early versions of first aid kits were not the standard red and white first aid kits you see today. They came in bright, lively colors and designs.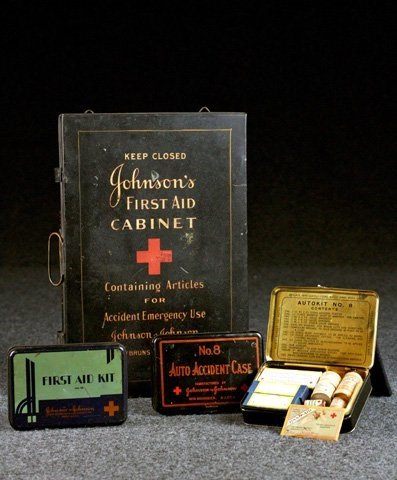 Source: HSI
3) In 1898, American soldiers first started using first aid kits during the Spanish-American War.
4) Companies used to advertise first aid kits on cigarette cards, small cards that tobacco companies used as marketing ploys on cigarette packs.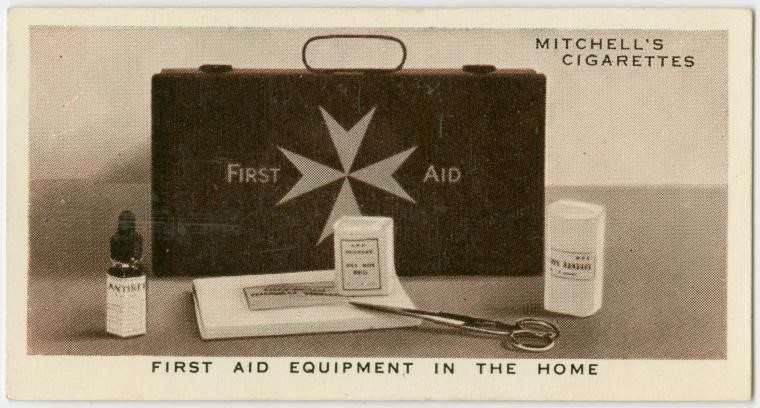 Source: Digital Public Library of America 
5) During World War I, the British Army issued three different kinds of first aid kits to their troops: "Small First Aid Kits" (used by normal soldiers), "Medium First Aid Kits" (used by stretcher-bearers), and "Top First Aid Kits" (used by Regimental Medical Officers, known as RMOs).
6) American soldiers used small brown U.S. Army First Aid Packets during World War I that were designed by Bauer & Black in Chicago, Illinois.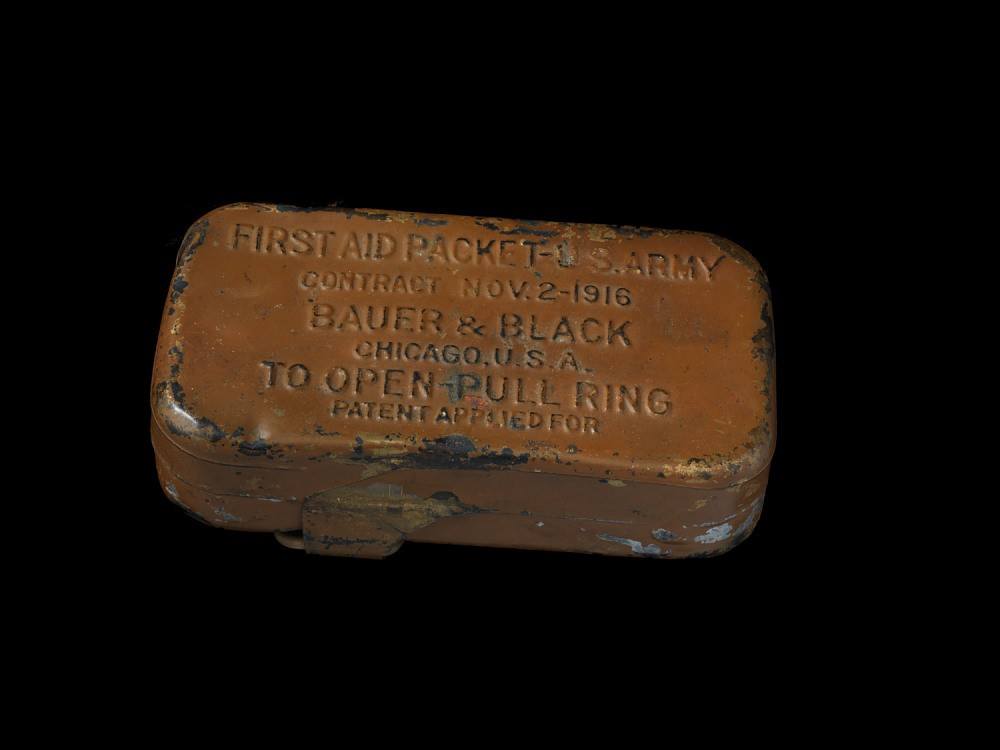 Source: National Museum of American History
7) WWII first aid kits often included items like wound tablets, tourniquets, and morphine tablets.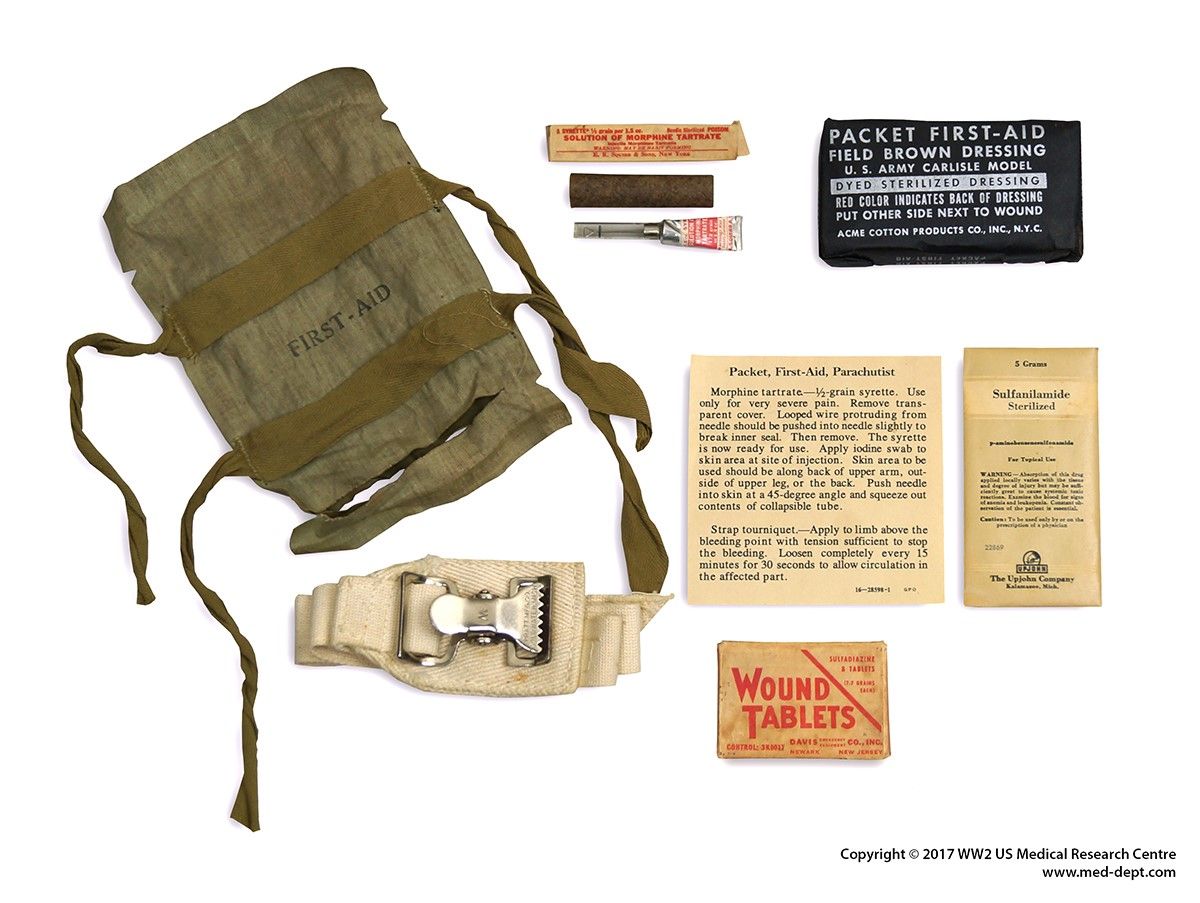 Source: WW2 US Medical Research Centre
8) In the mid-20th century, first aid kit designs developed into what they are today: small boxes with compactly packaged materials.
9) In 2013, companies in our industry celebrated the 125th birthday of the first official first aid kit.
10) According to OSHA standard 1910.266, first aid kits should include specific items like gauze pads, bandages, scissors, tweezers, and elastic wraps.
11) ANSI/ISEA Z308.1-2015 – published by the International Safety Equipment Association – establishes minimum performance specifications for first aid kits and their supplies in the workplace.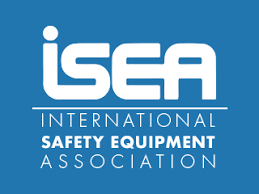 12) ANSI/ISEA Z308.1-2015 designates two different classes of first aid kits: Class A Kits (for the most common kinds of workplace injuries) and Class B Kits (for more at-risk work environments).
13) Class B Kits contain two items that Class A Kits do not: a tourniquet and a splint.
14) ANSI/ISEA Z308.1-2015 also classifies four types of first aid kit containers:
Type I first aid kits (for indoor, stationary workplaces)
Type II first aid kits (portable kits for indoor workplaces)
Type III first aid kits (portable kits that can be used both indoors and outdoors)
Type IV first aid kits (portable kits for outdoor, mobile workplaces)
15) Omni International Corp. broadened its product line beyond gloves and first started offering 10- and 25-person first aid kits in 2018, which have since become best-sellers!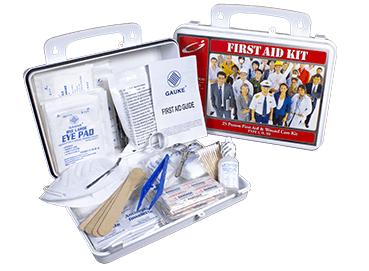 Check out our first aid kits here!