On April 9, 2019, Omni International Corp. was pleased to attend this year's NDC Exhibition at the Gaylord Opryland Resort & Convention Center in Nashville, Tenn.
NDC's annual event provides the perfect space and setting for healthcare supply chain industry leaders to create meaningful connections.
This show was the best one yet, chockfull of relevant speaking engagements about timely healthcare supply chain topics, meetings with industry partners, and more!
Omni's Art Miller Wins Simply Powerful Partner Award
The highlight of this year's NDC Exhibition was when Regional Sales Manager Art Miller was awarded a Simply Powerful Partner Award just for doing what he loves: working with NDC members!
Check out our latest post on Facebook or watch the video below to see Art receiving his award!
Art was proud to be one of four who supplier reps recognized by NDC for exemplifying partnership in sales, support in customer service, and in overall dedication.
It All Happened in Booth #419
Meanwhile, Art and the rest of the Omni team enjoyed meeting with all of the NDC members who stopped by our booth (#419) at this year's exhibition.
Passersby had the chance to try out some of Omni's newest and/or best-selling healthcare gloves including our OmniTrust #201 Series Nitrile Powder Free Examination Gloves and our OmniTrust #204 Series Ultimate Nitrile Powder Free LT Examination Gloves.
Congratulations to the Two Visa Card Winners!
Two booth attendees walked away with more than knowledge about Omni's latest glove lines.
Rick Bozogian from AJ Medical in East Syracuse, New York, and Ron Dial from Suncoast Medical and Surgical in Tampa, Fla., were the two lucky winners of Visa gift cards from our booth raffle!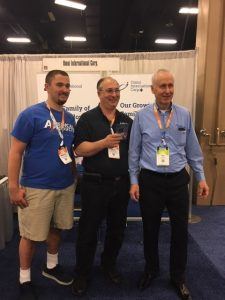 Nathan and Rick Bozogian from AJ Medical along with Art Miller from Omni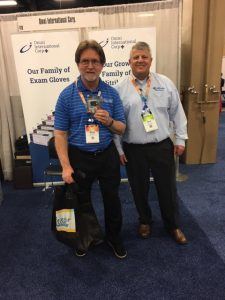 Ron Dial from Suncoast Medical and Surgical in along with Bob Salin from Omni
Moving Forward
Omni International Corp appreciates all the great opportunities you have shared with us! We look forward to continuing to work with NDC members and helping you to increase your glove business, market share, and profitability.