The deadline for USP <800> is less than six months away, and across the country, many health systems are scurrying to do everything they can to be ready for this chapter before the final deadline of December 1, 2019.
But what exactly is USP <800>?
Why was it put into place?
And how do gloves fit in?
Learn more in today's blog post!
What is USP?
USP – the United States Pharmacopeial Convention – is an independent , scientific, nonprofit organization improving public health by setting standards for the identity, strength, quality, and purity of medicines, food ingredients, and dietary supplements manufactured, distributed and consumed worldwide.
USP <800>: A Brief Definition
As USP explains:
"The purpose of [Chapter <800>] is to describe practice and quality standards for handling hazardous drugs in healthcare settings and help promote patient safety, worker safety, and environmental protection. The chapter defines processes intended to minimize the exposure of hazardous drugs in healthcare settings."
Originally published in March 2014 for public comment, this chapter was revised in December of that year, then later in February 2016. In addition, the go-live date – which initially was June 2018 – was later changed to December 1, 2019.
Why was USP <800> Put into Place?
USP <800> was developed because of the many dangerous – and documented – effects that hazardous drugs have on healthcare personnel during occupational exposure.
Hazardous Drugs (HDs) 101
Also known as HDs, hazardous drugs can be broken up into three groups per the National Institute of Occupational Safety and Health (NIOSH):
Group 1: Antineoplastic drugs (AHFS Classification 10:00) [ASHP/AHFS DI 2013], which may also pose a reproductive risk for susceptible populations. (Antineoplastic drugs are used to treat cancer, with common examples being cancer chemotherapy drugs and cytotoxic drugs.)
Group 2: Non-antineoplastic drugs that meet one or more of the NIOSH criteria for an HD and drugs may also pose a reproductive risk for susceptible populations.
Group 3: Drugs that primarily pose a reproductive risk to men and women who are actively trying to conceive and women who are pregnant or breast-feeding.
The six criteria of HDs per NIOSH include:
Carcinogenicity
Drugs that mimic existing drugs in structure or toxicity
Genotoxicity
Organ toxicity at low doses in humans and animals
Reproductive toxicity in humans
Teratogenicity
Negative Effects of HDs on Healthcare Workers
Though the drugs in question obviously provide positive benefits to patients who are being treated with them, exposure to these HDs has been proven to be extremely harmful.
Besides the reproductive risks Group 3 HDs have caused, healthcare personnel can also experience flu-like symptoms, headaches, skin-related effects, and ocular-related effects because of exposure to HDs.
As a result, USP <800> was designed to give healthcare systems and organizations specific standards to minimize HD contamination and exposure, including directions for the use of personal protection equipment (PPE) as relating to HDs.
USP <800>, PPE & Disposable Gloves
In Section 7:1, USP <800> provides a narrower definition and scope of which PPE should be used whenever a healthcare employee handles HDs.
Whether administering, storing, compounding, cleaning, or disinfecting, USP <800> gives specific instructions and advice for healthcare personnel.
One of the specific kinds of PPE that USP <800> addresses is disposable gloves.
Criteria for Disposable Gloves Under USP <800>
According to USP <800>, any gloves that healthcare workers don when handling HDs need to meet the American Society for Testing Materials (ATSM) standard D6978. ATSM standard D6978 provides a "uniform procedure for assessing the resistance of medical glove materials to permeation by chemotherapy drugs…."
Moreover, any gloves a healthcare worker wears when handling HDs must be powder-free.
Furthermore, not only should workers only don gloves that meet ATSM standard D6978 (which are often labeled as "chemotherapy gloves"), but as USP <800> and this ATSM standard state, workers are also required to wear two pairs of chemotherapy gloves at a time (note: this is only in specific circumstances).
Lastly, USP <800> also recommends that healthcare personnel change their gloves every 30 minutes if the gloves are torn, punctured, or contaminated.
Omni International Corp.'s Gloves for USP <800>
Omni International Corp. carries two gloves which meet ATSM standard D6978 and thus satisfy the requirements of USP <800>.
These include:
OmniTrust #204 Series Ultimate Nitrile Powder Free LT Examination Glove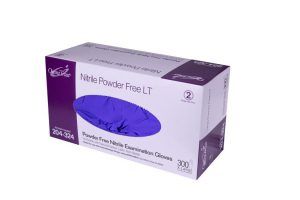 Omni's #204 Series gloves offer the "ultimate" in tactile sensitivity along with the strength you expect from our nitrile glove products.
In addition, it is Chemo Rated for added protection from chemotherapy drugs and its durability is proven in chemical resistance properties. Our 204 provides easy donning with an innovatively-designed low-friction surface.
Features/Benefits:
Tested for Safe Use with Chemotherapy Drugs
Lightweight "Ultimately" Wonderful Feel
Micro Fingertip Textured for Superior Grip Contact
Not Made with Natural Rubber Latex
Ambidextrous, Beaded Cuff, Single Use Only
OmniTrust #212 Series Nitrile Powder Free Examination Glove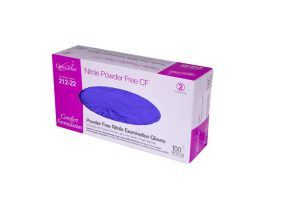 Our OmniTrust Nitrile Powder Free #212 Examination Glove is a thermally activated glove that starts conforming to your hand when donned. You will find our comfort formulation very comfortable, reducing hand fatigue.
This glove also has our famous micro-texture fingertips and matte finish for added grip control without loss of tactile sensitivity. The #212 series is also tested for safe use with chemotherapy drugs.
Features/Benefits:
Comfortable Formulation & Thermally Activated to Reduce Hand Fatigue
Completely Latex FREE (No Risk for Latex Allergy)
Tested for Safe Use with Chemo Drugs
Micro-Textured for Superior Grip Control
Ambidextrous Beaded Cuff, Single Use Only