We all use disposable gloves for protection, but some gloves offer more protection than others.
That's why the OmniShield AMS #352 Series of gloves (both clear and blue) from Omni International Corp. have been bestsellers since they were introduced.
Curious to know more? Here are four reasons why you should check out our featured gloves of the month!
1) They utilize built-in EPA Registered Anti-Microbial agents to protect the glove.
The #352 Series incorporates the groundbreaking Anti-Microbial Solutions LLC (AMS) technology to provide the ultimate in glove protection.
Our revolutionary AMS technology attacks bacteria by inhibiting the growth of microorganisms by using an electrochemical mode of action to penetrate and disrupt their cell walls.
AMS technology encompasses both bacteriostatic (growth-inhibiting) and bactericidal properties. It consists of a combination of proprietary technology and manufacturing techniques that result in a very high degree of consistent anti-microbial and anti-fungal efficacy.
Bonus: Why the Food Service & Food Processing Industries Need Gloves with AMS Technology
2) They come in two styles: blue and clear.
Both share the same features, benefits, and properties and only differ in one way: their color.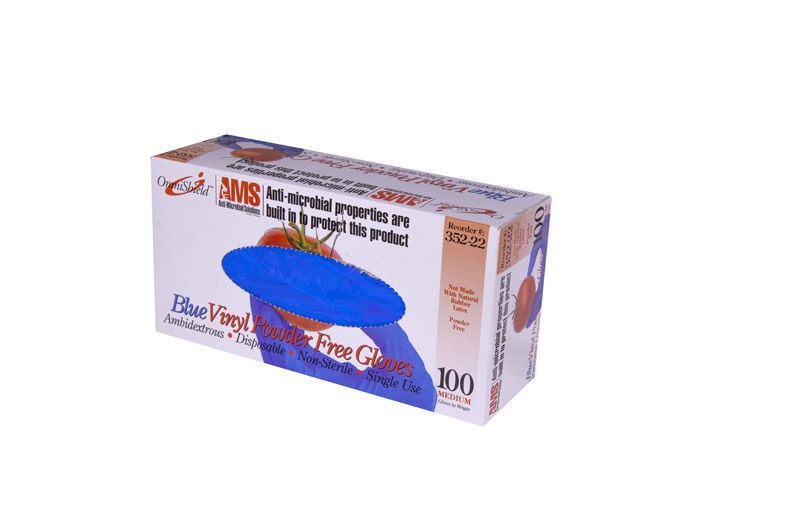 Blue series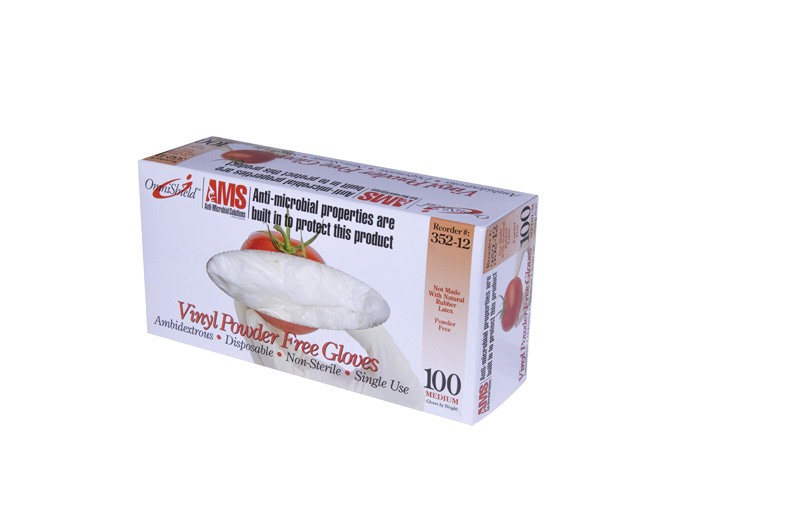 Clear series
This gives wholesalers, distributors, and other companies in the glove industry more varieties so they can better meet their customers' needs and wants.
Learn more about the OmniShield AMS #352 Series Blue Multi-Purpose Vinyl Gloves here.
Learn more about the OmniShield AMS #352 Series Clear Multi-Purpose Vinyl Gloves here.
3) They're designed for any non-medical use.
Need high-quality vinyl gloves for food service, food processing, housekeeping, general purpose, or industrial applications? You can use the #352 Series in any of these settings!
4) They're made from the highest quality polyvinyl chloride and plasticizers available.
The materials we manufacture our #352 Series of gloves with are more durable and of a higher quality than other vinyl gloves in the industry. This ensures more durability and protection – especially when you keep in mind that they also incorporate AMS technology (see #2).
Conclusion
Without a doubt, the OmniShield AMS #352 Series of multi-purpose vinyl gloves are some of the strongest synthetic vinyl gloves around today.
Ready to try them out for yourself? Get a sample by clicking on one (or both) of the buttons below!